SCHEDULE A FREE INSPECTION
If your basement leaks or your crawl space has mold, moisture, standing water, or rotting floor joists and beams, we have the solutions to protect your home. Call us at 804.318.5002 today to schedule your FREE inspection and estimate.
And don't forget, we also offer 0% interest for 12 months and other financing options for all our home repair services.
Let us help you with
Our Home Services
Does your home have a damp and moldy crawl space or a wet basement? These problems can and will detract from the value, comfort, and safety of your home. Our professional Inspectors serve homeowners in Virginia by providing quick, reliable, and professional solutions to your concerns.
It's all about quality service
"Going Above & Beyond"
Kefficient is an experienced crawl space repair and waterproofing company serving homeowners in Virginia. We are a family-owned and operated business focused on customer satisfaction and a job well done.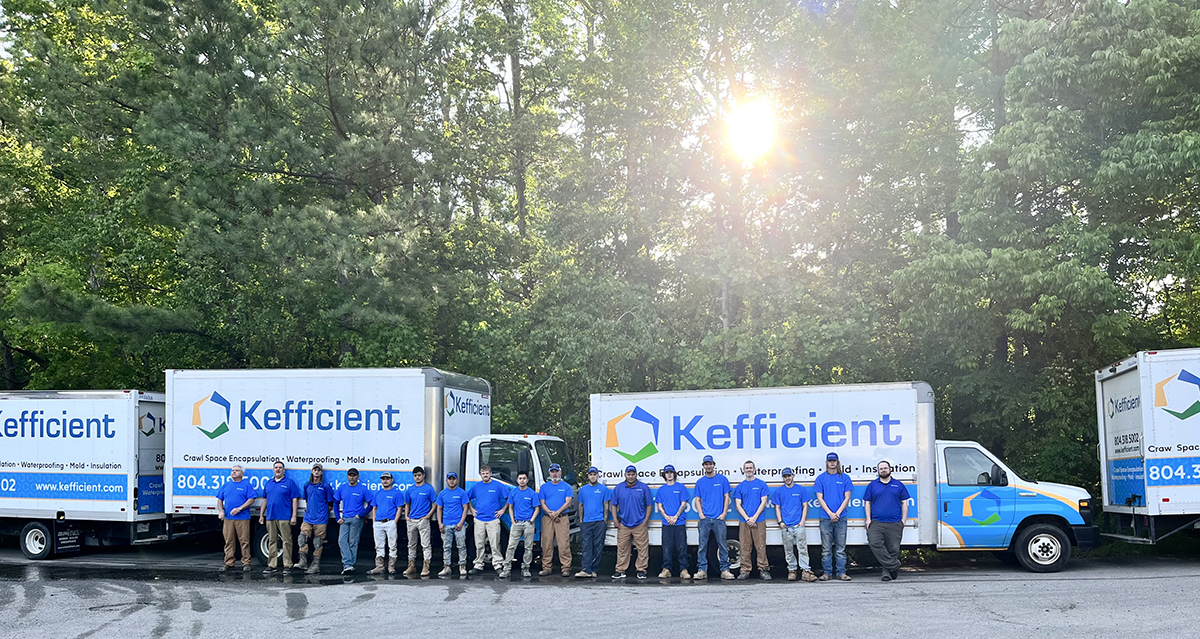 For proper cleaning use the
Kefficient crawl space solution

Controls Moisture
We find the source of the water, then prevent the water from entering the crawl space. Additionally, our system maintains a humidity level between 30 to 50% year-round, which protects your crawl space.

Discourages Insects/Rodents
Insects and rodents prefer a damp environment. These critters can take residence in your home, causing damage and discomfort. With our crawl space repair services, we can eliminate moisture and discourage pests.

Energy Efficiency
Properly sealing and insulating your crawl space will result in an average savings of 15 to 20 percent on your heating and cooling costs. Let our crawl space technicians reduce your energy bill.

Eliminates Odors
Unencapsulated crawl spaces with water issues produce foul odor-causing bacteria and mold. Improper space entrances and venting can also lead to pests entering the crawl space and contributing to foul smells.

Indoor Air Quality
Up to 50% of the air you breathe in your home comes from the crawl space. Don't let your family breathe in harmful mold. Our system eliminates crawl space mold and purifies the air creating a clean, dry, and healthy home.

Protects Structural Integrity
A dry and clean environment prevents mold from growing in your crawl space. Mold can rot wood and damage your home's structural integrity. Let our crawl space experts prevent future headaches related to your home.
I highly recommend Kefficient. Their service is top notch: personal and professional!!
Joshua C.
Crawl Space Encapsulation
Richmond VA 23229
Mark and his crew did an excellent job with my crawlspace encapsulation, and they were very price competitive. I would highly recommend Kefficient.
Gene D.
Crawl Space Encapsulation
Chester VA 23831
Awesome contractor to work with got the work done quick and did an awesome job. We will be using them for any other crawl repairs we have.
David B.
Crawl Space Repair
Richmond VA 23235
Mark and his team did an awesome job! Honest about what they recommend and how to fix it. Worked with me on any questions or concerns I had. My crawl space is mold free and looks great! Great job every step of the way and wouldn't hesitate to recommend them to anyone. If you are looking for crawl space work, stop looking and go with them!
Matt S.
Crawl Space Repair
Mechanicsville VA 23111
After I reviewed on line information regarding mold removal and crawl space encapsulation, I began looking for a contractor that would perform the necessary steps to remediate my crawl space. After obtaining several quotes and researching the various companies involved in crawl space mold issues, I selected Kefficient. The major reasons for selecting Kefficient was that I found that the owner, Mark Keffer, was very knowledgeable about mold removal and encapsulation and followed Chesterfield County requirements in permitting, removal of all mold contaminated insulation between floor joists, treatment of mold with a chemical agent which effectively destroys it, cleaning of all areas where mold has grown to remove any remaining spores, sealing the crawlspace vents, encapsulating and insulating the crawlspace, and installing a permanent dehumidifier with an in home monitoring device to ensure moisture levels remained within acceptable limits. His company did an excellent job during this process and kept me informed along every step of the way. After completion, the job was inspected by a Chesterfield County inspector and passed all requirements. Mr. Keffer's attention to permitting requirements is of especial notice as some companies are offering encapsulation without meeting those requirements. Another factor which I considered was that Kefficient was very price competitive with other vendors. I would highly recommend this company for assistance in resolving moisture or mold issues in your home!
Brian C.
Crawl Space Repair
Chester VA 23831
Mark and his whole team did a fantastic job from start to finish problem solving, estimating, demo, engineering, and installation. Can't say enough great things! I was especially impressed with Mark's communication skills. In person, over the phone and text/email, he was patient, humble, intelligent and honest. He never oversold or undersold. He managed his team very well and only brought people on the job who shared his values and standards.
David C.
Basement Waterproofing
Richmond VA 23223
The Kefficient team performed the work as agreed upon just as stated.
Any concerns were addressed within a reasonable time. Customer satisfaction was a priority.
I would highly recommend Mark and his team!
Michael B.
Richmond, VA 23231
We found a good amount of mold in our crawl space this summer and called Kefficient to give us an estimate on remediation. Out of three estimates, they were the best price and very friendly and knowledgeable! They came out a couple weeks later and completed the remediation in one day. There was no smell in the house from the hydrogen peroxide cleaning solution. Also, I had previously removed the old insulation and had it in about 25 trash bags in the yard; they removed it without me even asking for that! This is a great company and I highly recommend them!
Jacob E.
Crawl Space Repair, Mold Remediation
Richmond, VA 23228
The guys at Kefficient did excellent work! We couldn't be happier. The owner, Mark, is very professional and personable and makes a point to be involved in each job through out. We received a great product followed by great service. Even since the job was complete we have received several emails from Mark checking in to ensure complete satisfaction. And to top it all off he came in significantly under the price of the other quotes we got. Very happy customers!
Donna J. E.
Powhatan, VA 23139
The crew at Kefficient did a wonderful job remediating moisture issues and encapsulating our crawl space. They were incredibly professional. They worked clean every day and communicated with us every step of the way. One of the greatest things was their reassuring manner in dealing with something that we were extremely concerned about. I would highly recommend them to anyone.
Jeana P.
Crawl Space Encapsulation
Powhatan, VA, 23139
Kefficient Company installed a drainage system in my basement this March. Mark Keffer in a week's time changed my basement from a damp place where water invaded at every storm into a dry area with water going away from house! Mark is a a compassionate professional worker who explained the project to me. Mark and Tyler did everything they could to protect the rest of my home from dust and dirt. My downstairs is now a warm, comfortable area that is dry and protected from rain and storms. I highly recommend Kefficient to do water drainage work. This is an extremely ethical company that does excellent affordable work.
Nita S.
Basement Waterproofing
Amelia, VA, 23002
Mark and his TEAM did an excellent and thorough job encapsulating our crawl space and installing the dehumidifier. They did not speed through the process and explained each phase of the progress. We had several questions about the process and benefits of encapsulation and they all took their time explaining in detail. I would highly recommend them!!
Matt C.
Crawl Space Encapsulation
Powhatan, VA, 23139
Mark and his crew are one of the most professional contractors I have worked with over the years, and I have worked with many over my own professional life in commercial and industrial facilities maintenance, so i'm well versed in what it takes to hire contractors and ensuring that a job is done on time, in budget and with professional results. They are very professional in their work in all ways, everything about this company is spot on, everyone is very professional in demeanor and character, they are diligent about doing the job professionally and the end results are top notch, as we used to say when I myself was a contractor, "they do pretty work" everything about my project when smoothly and efficiently, and the humidity in my crawl space is being controlled within +/- 1% of set point, and maintains set point with minimum operation of the dehumidifier, most excellent. I highly recommend them with no reservations.
Ronald M.
Crawl Space Encapsulation
Chester, VA, 23836
After obtaining 4 competitive quotes to encapsulate our crawl space, we decided to award the job to Kefficient and we could not have been more pleased with their work. Unlike their competitors, Kefficient's work proposal included all items we researched as being best practice such as for example drying out the crawl space before mold remediation. Kefficient also ensured that their work is permitted with the county, which is a great assurance that the encapsulation work is done right and will positively impact property value should we ever have to sell our house. Kefficient communicated very well with us and all personnel was professional and polite. They would not close the project before we were completely satisfied and even addressed a problem that was outside of the work scope without charging extra. We were probably more involved than the average homeowner in the encapsulation project and accompanied the crew on numerous occasions in crawl space tours to ask questions related and unrelated to the encapsulation project. The crew discussed and advised us on all questions and made sure all our concerns were addressed. Overall, the project was executed flawlessly with premium materials and an extremely high degree of craftsmanship that we are 100% confident their three competitors we obtained quotes from could not have matched.
Achim A.
Crawl Space Encapsulation
Richmond, VA, 23235
Mark and his crew just completed doing a tremendous job encapsulating and repairing my water damaged crawl space. Twice this year I have flooded floors on the lower lever. Mark diagnosed the issues. He pointed out specific problems and how to redress them. He knew about the necessary permits (other estimators did not mention them) and got them in a timely manner. He described the steps involved and the mold remediation process. The work crew (Mark, Sarah, Tyler, Issac(?)) worked diligently and efficiently spending days in the crawl space doing the required work. Everyone was courteous, efficient, and helpful in explaining what they were doing on any given day. The communication with Mark as to schedules and timing and anything having to do with the project was excellent. I would highly recommend Mark and Kefficient for any crawl space or waterproof situation you may have. Mark is the best contractor and his crew the best work crew that I have ever employed for any work.
Steve C.
Crawl Space Encapsulation
Colonial Heights, VA 23834
Mark and his team did a fantastic job resolving our crawl space issue. We were in a bit of a crunch time-wise because the work was part of a real estate transaction, and Mark was able to fit us into his already busy schedule. We couldn't be happier with our experience with Kefficient and highly recommend them.
Rob W.
Crawl Space Repair
Richmond, VA 23103
My husband and I were having some issues in the basement that we thought were going to be very expensive to fix. We were expecting a few thousand dollars at minimum! We emailed Kefficient so that we could get a quote from them. The whole process was very quick. Mark came out and went under the house with my husband. He went over the crawl space top to bottom with him, explaining everything he was looking at or looking for. Turns out we didn't have a big problem. It was a very cheap and quick fix. We appreciate the very courteous treatment we got. We REALLY appreciated the honesty we got from Mark. Most companies these days just try to take as much from you as they can. It was just a great experience all together!
Sara B.
Basement Waterproofing, Crawl Space Repair
Pamplin, VA 23958
I had some issues with my basement leaking when we get a heavy rain. I called Kefficient and they responded very quickly and professionally. I was really pleased to see that they were on time through the whole job. They did what they said they were going to do and did it within my budget.
When they left I could not tell they had even been here.
Good job guys
Thanks
Council B.
Basement Waterproofing
Amelia CH, VA 23002
They were on time, on budget, kept a clean job site, friendly and professional!
C Evans
Amelia CH, VA 23002
Gross crawl space or basement?
set up a consultation