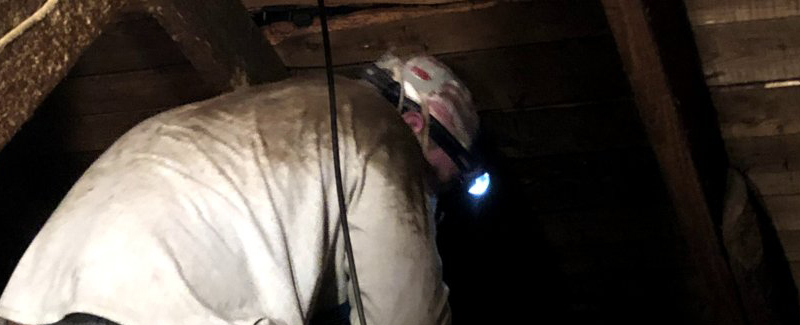 Attic Insulation in Richmond, VA
Kefficient Attic Insulation
A drafty attic is costly. An uninsulated attic can cause many problems, including pests, increased energy costs, and water damage. 
At Kefficient, we offer professional attic insulation to keep your home safe and comfortable. Through our services, we'll save you money while protecting your home from infestations and damage.
Contact our team at 804.318.5002 to schedule your FREE consultation.
The Top Signs Your Attic Needs Insulation
Water leaks tend to slip through the cracks. If your attic needs insulation, you'll see signs of water damage on your walls and ceiling. 

Ice damming forms as a result of the continuous melting and freezing of snow. Although not common in Virginia, jamming may be faint yet present if the weather is cold enough. 

Pests within your attic point to poor insulation. If you notice scratching in the walls or see bugs scampering about when you visit the attic, you may need insulation. 

Cold drafts come in many forms but mostly appear as chilly breezes. If you're visiting the attic and feel a gush of air, you may need insulation.

Moisture or mold in the attic signifies water and outside elements working their way in. The humidity from an improperly insulated attic could produce the perfect place for mold growth. 

HVAC systems tend to work overtime to keep an improperly insulated attic running. Thus, if your energy bills are too high or your HVAC systems seem to burn out faster than they should, then you may have a problem. 

Cold rooms, walls, and floors signify a sign of improper insulation. Just touch your hand to the ceilings or interior walls to 
What Are the Benefits of Insulating Your Attic?
Reduce energy bills. If your attic is insulated correctly, you won't lose warm air in the winter and invite hot air during the summer. Less fluctuation in air quality means your HVAC systems won't have to work as hard to keep your home comfortable. 

Attic insulation gives you better air quality. With less draftiness, you'll have fewer dust particles swimming around in your breathable air. 

Keeps room temperature stable by controlling air leakage. 

Increases your home's value. 

Makes your attic a functional space: If your attic is too hot or too cold for anything, proper insulation will help stabilize the temperature. With a more consistent temperature, you can use your attic as a new room or additional storage space. 

Prevent structural damage from moisture. Insulation protects your home from water vapor. Reduced water vapor protects your attic from mold, warping, and roofing issues.
Schedule Attic Insulation Installation in Richmond, VA
Attics and ceilings can account for 40% of a home's energy loss if not properly insulated. At Kefficient, we ensure your attic is protected from draftiness and energy loss. 
When you schedule your FREE attic inspection, we take the time to look over your home and determine the best course of action. Our professionals offer different insulation materials to help add energy efficiency to your attic and home. We walk you through the whole process and are always available to answer any questions you may have.
Give us a call at 804.318.5002 to schedule your FREE consultation.
Concerned About Financing?
At Kefficient, we understand that home repairs can be sudden and costly. That is why we offer 0% interest for 12 months and other financing options to our customers for all our home repair services. Learn more about Kefficient's financing options on our financing page.